Maximizing Performance: Importance of Hip-Shoulder Separation in Sports
In sports, "hip-shoulder separation" refers to the pivotal action of creating a distinct angle between the hips and shoulders during movement. This separation plays a vital role in enhancing athletic performance.
By optimizing this separation, athletes can tap into the stretch-shortening cycle, boosting power and speed. This is especially crucial for activities involving throwing velocity, where max hip shoulder separation enables greater trunk rotation and ultimately leads to higher throwing velocities.
In this article, we will explore the significance of hip-shoulder separation in sports and how it contributes to maximizing overall athletic prowess.
Understanding Hip-Shoulder Separation
Hip-shoulder separation is like twisting your body while playing sports. Imagine you're throwing a ball, like in baseball. Your hips and shoulders usually move together, but in hip-shoulder separation, they twist at different times. It's like winding up a spring to make your throw more powerful.
In sports, being good is important, right? Well, hip-shoulder separation can make you even better! When you throw a ball, like in baseball or even in other activities like golf or tennis, using hip-shoulder separation can help you throw harder, hit the ball farther, or move better.
Here's why it's a big deal:
Upper Trunk Rotation: When you twist your upper body (your shoulders and upper chest), it stores energy. This energy can be released when you throw, hit, or swing, making your movements faster and more powerful.
Pitching Motion: Hip-shoulder separation is a superstar move in pitching mechanics. Pitchers wind up their hips and shoulders separately, then BAM! They bring them together with a lot of force. This makes the ball go faster and confuses the batter.
Shoulder Joint Torque: Torque is like twisting force. When your hips turn before your shoulders, it creates torque in your upper body. This torque is like a whip-crack for your throw or swing, making it super speedy.
Pitch Velocity: In baseball, the faster you throw, the tougher it is for the batter to hit. Hip-shoulder separation can add speed to your throws. Just think of it as adding a turbo boost to your arm.
Kinetic Chain: Imagine a chain reaction where each part helps the next. That's the kinetic chain. Hip-shoulder separation is a big link in this chain. It starts with your legs, moves to your hips, then your trunk twists, and finally, your arm lets the ball fly!
In simple words, hip-shoulder separation is like twisting a rubber band before letting it go. It makes your body movements more explosive and helps you perform at your best in sports. So, whether you're swinging a bat, throwing a ball, or hitting a shot, remember that hip-shoulder separation can give you that extra edge to shine!
Biomechanics Behind Hip-Shoulder Separation
Hip-shoulder separation is a fancy term that explains how baseball players and athletes rotate their hips and shoulders differently to throw with power. Imagine winding up like a spring before you throw – that's what this separation is all about.
When you throw a ball, your body moves in a special way. First, your hips turn, like when you twist your body to open a door. This is called hip rotation. At the same time, your upper torso, which includes your chest and shoulders, starts to twist in the opposite direction. This twist is called upper torso rotation. So, while your hips are turning one way, your shoulders are turning the other way. This difference in turning is the hip-shoulder separation.
Muscular Engagement and Kinetic Chain Dynamics
To make this hip-shoulder separation work, your muscles have to play together like a team. The muscles in your legs and hips are the starting point. They build up a lot of energy as you push off the ground. Then, like a whip cracking, this energy travels up your body. The hips lead the way, and then this energy moves through your core muscles to your shoulders. This is called the kinetic chain – it's like passing energy from one teammate to another in a relay race.
Your core muscles, like your abs and obliques, help slow down your upper body just a bit. This delay in your upper body turning allows your hips to keep moving faster. This difference in speed – hips moving faster, shoulders a bit slower – creates that maximum hip-shoulder separation. When your shoulders catch up, all that energy gets released like a coiled spring, launching the ball with speed. This speed is what we call pitching velocity.
In a nutshell, hip-shoulder separation is when your hips and shoulders twist in different directions while throwing. This happens because your body is like a well-timed machine – first the hips rotate, then the upper torso, and this difference in movement helps you throw the ball faster. It's like a dance between your muscles and joints, all working together to create that powerful pitch.
The Impact on Performance
Power Generation
Hip-shoulder separation is when your hips and shoulders rotate differently in a coordinated way during certain movements. Imagine a baseball pitcher winding up: the hips turn one way, while the shoulders turn the other way. This twist creates tension, like a spring getting coiled.
This twist stores energy in the muscles and connective tissues between the hips and shoulders. It's like pulling back a rubber band – the further you stretch it, the more potential energy you build up. When the hips start to unwind and rotate forward, that stored energy gets released, transferring power through the core to the shoulders and then to the arms.
Torque is a turning force that causes things to rotate. By having your hips and shoulders turn separately, you're creating torque along your body. This torque gets unleashed as your hips lead the movement and your shoulders follow. The rapid trunk rotation velocity adds to this torque, making it like a whip cracking – quick and forceful. This explosive torque is what makes actions like throwing a baseball or swinging a golf club powerful.
Improper trunk rotation sequence, where hips and shoulders don't separate well, can mess up this power generation. If the hips and shoulders move together, the stored energy doesn't build up properly, and you lose the chance for that explosive release. So, proper hip internal rotation and coordinated pelvic and thoracic spine rotation are crucial. This separation is what lets your body work like a spring, turning your energy into powerful movements.
Mechanics of Accuracy and Control
Sure, let's dive into how hip-shoulder separation affects accuracy and control in sports:
Hip-shoulder separation is a key factor in sports like baseball, golf, and cricket. It involves the rotation of your pelvis (hips) and shoulders in opposite directions. This separation sets the stage for accurate and controlled movements.
When you wind up by turning your hips in one direction and your shoulders in the opposite direction, you're like a spring getting coiled. This winding creates potential energy that gets released when you swing or throw. This transfer of energy from your hips to your shoulders and then to your arms allows for powerful and accurate actions.
The timing of this separation matters. Starting the motion with your hips allows you to generate more speed as you add the rotation of your shoulders. This speed translates into accuracy when you release the ball or swing the club.
Importantly, this separation also divides the work among your body parts. Your hips generate force, while your shoulders help transfer it through your arm. This division of labor reduces strain on any single joint and results in smoother and controlled movements.
Consistency in sports techniques is crucial for success. Hip-shoulder separation contributes to this consistency by:
Building Muscle Memory: Doing the same motion repeatedly teaches your muscles. When you consistently use hip-shoulder separation, your body remembers the pattern. This muscle memory makes it easier to replicate the correct movement each time you play.
Maintaining Balance: Separation helps keep your body aligned. This balance ensures that you maintain the right posture throughout the movement. When your body knows how it should be positioned, you can more easily replicate the same movement and perform accurately.
Reducing Unwanted Movements: Proper separation minimizes unnecessary motion. Your body becomes more efficient at using the energy from your hips to guide your arm's movement. This reduction in extra movements makes your technique more predictable and reliable.
In summary, hip-shoulder separation acts as a bridge between your power source (hips) and your accuracy control center (shoulders). It allows you to store energy, release it with precision, and consistently execute your sports techniques. This combination greatly enhances your ability to hit targets accurately and perform sports actions with control.
Hip-shoulder separation serves as a conduit, connecting the power generation at the hips with the precision-focused shoulders. This connection allows for energy accumulation, accurate targeting, and controlled execution of sports techniques. The integration of pelvis and trunk kinematics, achievement of maximal angular velocity, optimization of shoulder joint force, and the well-timed hip to shoulder separation collectively contribute to improved accuracy and consistency in sports performances.
Injury Prevention
Hip-shoulder separation is a crucial concept in injury prevention for athletes, especially professional baseball pitchers. This separation refers to the rotational difference between the hips and shoulders during the throwing motion. By achieving proper hip-shoulder separation, athletes can significantly reduce stress on specific joints like the shoulder and elbow.
When the hips and shoulders rotate in opposite directions, it helps distribute the forces more evenly throughout the body. This means that the shoulder and elbow joints don't have to bear excessive strain on their own, lowering the injury risk to these vulnerable areas.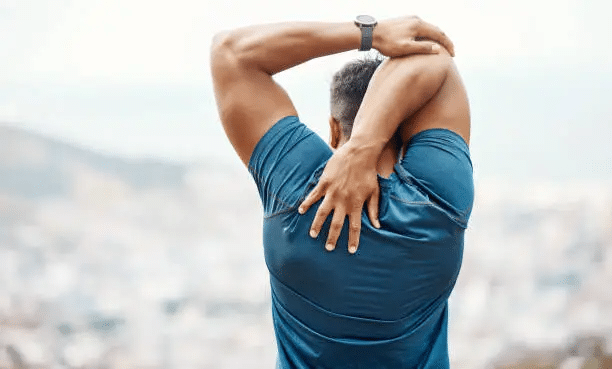 Moreover, proper hip-shoulder separation also plays a vital role in minimizing the risk of overuse injuries. Overuse injuries occur when a particular joint or muscle group is used too frequently without enough rest. When pitchers maintain good hip-shoulder separation, it allows for efficient energy transfer through a technique known as "counter rotation."
This means the energy generated from the hips can be effectively transferred to the shoulders and then to the arm, resulting in higher ball velocity without relying solely on arm strength. This balanced energy distribution reduces the strain on any single body part, decreasing the likelihood of overuse injuries caused by repetitive motions.
In the realm of pitching biomechanics, understanding and practicing hip-shoulder separation can significantly benefit athletes by promoting a safer and more efficient throwing technique. It not only lessens stress on vulnerable joints but also helps prevent the kind of overuse injuries that can be particularly common among professional baseball pitchers.
Sports-Specific Applications
Baseball/Softball
Baseball and softball players apply the concept of hip-shoulder separation to improve their striking and throwing skills while safeguarding their bodies. This technique involves the rotation difference between the hips and shoulders during the throwing or striking action.
By employing hip-shoulder separation, players can effectively decrease stress on vulnerable joints like the shoulder and elbow. This is particularly important because overuse injuries, like those requiring shoulder or elbow surgery, are common in these sports. When the hips lead the rotation before the shoulders, the strain on individual joints lessens. This controlled energy transfer, stemming from proper upper torso kinematics, eases the pressure on these joints and aids in reducing potential injuries.
In the context of pitching, mastering hip-shoulder separation is integral to maximizing pitch velocity. This separation facilitates the storage and release of energy, resulting in higher speed in throws. The hips initiate the motion, building up potential energy, which is then transferred through the kinetic chain to the shoulders and eventually the arm. This sequence generates the whip-like effect that, ultimately, boosts the throw's speed.
Likewise, in striking skills, such as hitting a baseball, hip-shoulder separation plays a pivotal role. Batters utilize this separation to amplify their power when striking the ball. The hips' rotation ahead of the shoulders enables a forceful swing, leading to enhanced contact with the ball and better chances of a successful hit.
In summary, hip-shoulder separation is a fundamental technique that contributes to enhancing performance and minimizing the risk of overuse injuries, including those requiring shoulder or elbow surgery. By understanding and implementing this concept, athletes can optimize their pitch velocity and striking capabilities while prioritizing the longevity of their upper body health.
Golf
Golf involves using the body's movements to hit the ball accurately. Hip-shoulder separation is a crucial technique in golf that helps in two important ways: reducing stress on joints and preventing overuse injuries.
First, let's talk about how it reduces joint stress. When you swing a golf club, your hips and shoulders play a big role. Separating their movements means they turn at different times. This separation helps to spread the stress across your body, so no single joint takes all the pressure. It's like when a pitcher throws a baseball hard but makes sure their body parts work together. This way, your hips and shoulders share the load, keeping your joints safer.
Now, onto overuse injuries. Just like how a baseball pitcher can hurt their arm if they throw too hard too often, golfers can also get hurt from doing the same motion repeatedly. But if you use hip-shoulder separation, it can help here too. By using your hips to start the swing and then adding your shoulders, you're involving more muscles. This sharing of effort means no one muscle or joint gets worn out quickly. It's a bit like how a runner's foot strike changes to avoid hurting the same part of the leg too much.
In conclusion, hip-shoulder separation in golf is like teamwork for your body. It spreads the work across different joints, lowering stress and lessening the chances of injuries from doing the same thing again and again. Just as in pitched baseball velocity, where everything works together to throw the ball hard while protecting the arm, in golf, your body works together to hit well and stay injury-free.
Tennis
Tennis players use hip-shoulder separation to boost their serve power and accuracy. It's like winding up a spring to unleash energy. When serving, the hips and shoulders rotate in opposite directions. This stores energy in the torso, which is then released into the racket for more powerful serves. Accuracy improves because the separation lets players position the racket precisely.
In groundstrokes, hip-shoulder separation adds oomph. As a player hits the ball, the hips start the movement, and then the shoulders follow. This sequential action adds speed and power. Just like high school baseball pitchers throw harder with this technique, tennis players hit with more force. Hip extension, the stretching of hip muscles, is vital. It helps create separation and results in stronger shots.
Remember, in tennis, hip-shoulder separation is all about timing. The hip turn initiates the energy, and the shoulder turn delivers it. For serves and groundstrokes, mastering this separation amps up the game.
Our Methodology
Hip and Shoulder Disassociation or separation is the action of moving the hips and shoulders in opposite directions. The ability to achieve more separation is proven as a key contributor to increase velocity when throwing a football or baseball. In this post, we will be going over how to achieve more separation in your upper and lower body when throwing.
To start, you want to pivot off the back leg as you take the first step to throw the football. You can slightly open your step to the side to promote more disassociation but most importantly the back foot needs to pivot while the front foot is hitting the ground. When the back foot pivots or rotates the front foot should naturally rotate or open towards the target.
Side note: I commonly see the mistake of overcoaching the front foot rotation by coaching the foot should be pointing towards the target. While that is not wrong the action should happen from rotation created through the back leg, not the front foot. (A significant difference)
Now while the lower body is opening or rotating towards the target, the upper body should be disassociating or rotating back. The best way to do this in my experience is by pushing the ball back or over-emphasizing closing the front shoulder.
How to increase throwing power? Read more here.
The reason I say closed is because the front shoulder is close off from the target or facing away as opposed to opened up which I used in the last paragraph would be facing towards the target. This ability to open towards the target in the lower body while simultaneously keeping the front shoulder closed is what creates the hip and shoulder separation.
Check Out Our Best Deals For Quarterbacks We Currently Have
Here Are The 3 Simple Steps You Need To Take To Start Improving Your Throw. Learn More Below
STEP 1. SEND IN VIDEO OF YOUR THROW
This is easy we send you a video to explain what angles to send and how to upload onto our server quickly and easily. You will be able to upload right from your computer or smart device.
STEP 2. RECEIVE BREAKDOWN
We will get your video back within 24 hours. You will get a detailed video explanation and report of what needs to improve. As well as drills to guide you in the right direction.
STEP 3 – MAKE THE CHANGE
Typically when working with a coach it takes months or even years to make changes in mechanics. With our 7 Step Throwing System you can expect results within the first 14 days. GUARANTEED!!!
If you are interested in getting some drills to see how to improve your hip and shoulder separation you can check them out in this video here:
Conclusion
In the world of sports, particularly for adolescent pitchers, the concept of hip-shoulder separation emerges as a vital element in maximizing performance. This separation between the hips and throwing shoulder plays a crucial role in enhancing rotational velocity. By efficiently coordinating the movement of these body segments, athletes can generate more power and speed in their throws. In conclusion, recognizing and refining hip-shoulder separation can significantly contribute to improved athletic achievements, especially for young pitchers aiming to excel in their respective sports.