Increase Your Throw Power With The Most Effective Quarterback Stretches
If you are looking for the most effective quarterback stretches for football to increase throw power and how to increase QB arm strength, we have the workouts that will help you improve. In this blog post, we will go through some of the shoulder range exercises you could do at your home just inside of a doorway and make it very simple and teach you how to throw a football farther, faster, and with a perfect spiral.
Most of the people in the quarterback community don't utilize these essential exercises to increase their throwing power or arm strength. These are simple quarterback throwing exercises (basic stretches for football) to help in achieving a more range of motion within the shoulder. These techniques are great quarterback strength training for the upper body. You can also do these QB workouts at home!
Many people reach out to me and inquire about the different types of pain they experience in their shoulders, back, and elbows. I always tell them that just by doing some consistent throwing motion exercises and using a medicine ball, they'll be able to get rid of their pain in no time and prevent any such pain from occurring in the future.
Strength Training To Prevent Injury
Quarterback weight training is essential for quarterback's performance on the field. It can help to build integral strength and stability of the quarterback's shoulder muscles so that they can throw an accurate pass when needed. A quarterback weight training workout should include single arm dumbbell press, lateral raises, front raises, side planks and other exercises targeted towards strengthening the quarterback's upper body and back.
Exercises like these done at home, such as bicep curls and triceps dips, are also great ways to build strength. In any quarterback weight training regimen, it is important to focus on shoulder stability in addition to understanding the rotator cuff, which will help quarterbacks have more power in their throws to propel longer passes on the field.
Quarterback Stretches to do at Home To Increase Throw Power
1. Pec stretch
In the first exercise, you stand in the doorway and get your elbows the same height as your shoulders, and from there try to step forward or simply fall forward with your spine (controlled) as much as you can. Then you should just push into the doorway. You've got to hold that position for 7-8 seconds.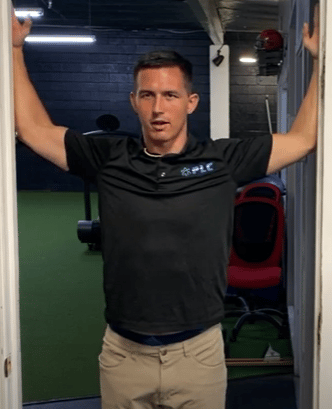 2. Lat/ Serratus Stretch
The next stretch in these quarterback throwing arm exercises is to reach all the way up over top, straighten your arms and hold onto the doorway vertically. Then you have to keep pushing your weight forward (keeping your shoulder blades together) so that your shoulders feel the stretch and enhance shoulder stability. You have to make sure your spine stays nice and long.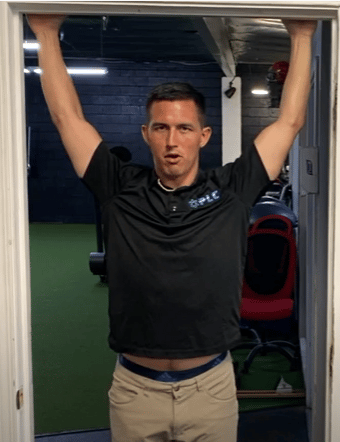 3. Lat Stretch
For this stretch, you have to make your pinkies face straight ahead with both hands and put your hands on the doorway right over your head. Again, you have to make sure your back is long and straight. Push your body weight forward and keep in that position for 7-8 seconds again. Make sure your elbows are straight as you are pushing forward with this stretch. Also, push your pinky's into the doorway here instead of the hands/palms. This is considered one of the stretches for pitchers' elbow.
4. Pec stretch with oblique
To do this stretch, you need to stand sideways to the doorway holding the side of the doorway (elbow to your shoulder height) with one hand and put the other hand just below your chest. Then you need to slowly rotate, pushing your weight away from your elbow in a way that your upper arm feels the stretch.
In this same position stretch, you can position your arm straight holding the side of the doorway, and push your body away from it. Keep yourself as straight as possible. This quarterback throwing exercise is vital to get your arm ready for serious action.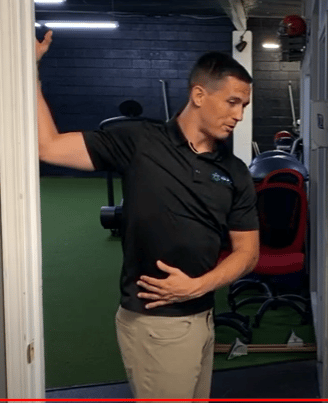 5. Front Line Stretch
This is a tricky one, you need to be able to reach the side of the doorways from your back. You should make sure your hand is as high up as possible. While holding it, you need to work yourself down low by bending your knees sliding down a bit. Hold that position for 8 seconds and repeat with the other arm. These are very effective arm flexibility exercises.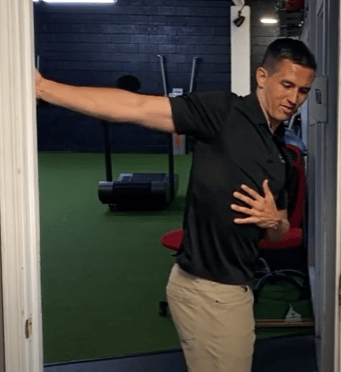 6. Subscap Stretch/ Internal Rotation
To do this part, you should grab the doorway with one hand (your thumb facing downwards) and straighten your arm. You should bend yourself and your head should align with your elbow (kind of like a bow). Hold your other hand just below your chest and be in that position for 6-8 seconds. Shift your hips from side to side to get the maximum output from this stretch.
Wrap up
You can do these simple doorway quarterback arm stretches to increase throw power in both your right arm and left arm and to keep your shoulders nice and healthy as a quarterback. If you liked the information presented above, you can check out our official website to know how you can throw the ball further. For more quarterback drills, check out this post.
Our program will help you develop an excellent range of motion. Moreover, there are also some strengthening exercises, footwork drills, and overall keep in the best shape and form. Keep visiting these pages as we regularly post the latest information that can help you stay ahead of your game as a quarterback.
Like and follow us on social media for more updates:
Frequently Asked Questions:
Is this program only for young quarterbacks in Southern California?
No, our program is suitable for all young quarterbacks regardless of where they are located. However, if you live in Southern California, we offer specialized services that can help young quarterbacks maximize their throwing power.
What youth football quarterback workouts do you recommend?
We recommend a variety of youth football quarterback workouts, such as stretching exercises, strengthening exercises, plyometric drills, and footwork drills. All of these are designed to improve the throwing power and accuracy of the youth quarterback. Additionally, we also offer personalized programs that can be tailored to the specific needs of youth quarterbacks.
Why is stretching important for athletes?
Stretching is an important element of any workout, as it increases upper body strength and improves body balance. We recommend stretching exercises such as shoulder rotations, arm circles, shoulder stretches, and upper body twists to improve your rotation and shoulder strength. These exercises will help strengthen the muscles used for throwing as well as increase flexibility in the upper body.
Furthermore, incorporating the best workouts for QBs into your routine will enhance your performance on the field. We recommend exercises that target specific areas of a quarterback's body such as the core, chest, and arms. Exercises like push-ups, planks, medicine ball throw, and pull-ups can help increase strength in those areas.