Usain Bolt: An Astonishing World Record Journey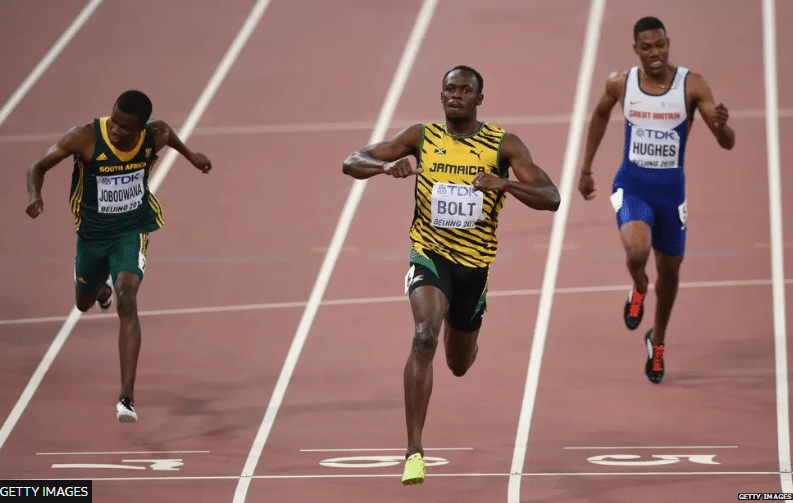 In the world of sprinting, there's one name that stands head and shoulders above the rest: Usain Bolt. Flip through the pages of track and field history, and you'll see the Jamaican sprinter Usain Bolt owning the record books.
Usain Bolt's journey through the world of sprinting is nothing short of legendary. In this blog post, we're going to take you on a thrilling sprint through history. So, let's go through the incredible world records and achievements that have cemented Usain Bolt's status as the undisputed champion of the sprinting world.
From jaw-dropping times on the track to unforgettable moments on the global stage, Bolt's story is one for the ages. So lace up your running shoes and join us as we dive into the remarkable feats of this iconic sprinter.
The World Records of Usain Bolt
Usain Bolt's sprinting legacy is nothing short of extraordinary. He currently holds world records in the men's 100m and 200m sprints. Moreover, he was part of the world record-holding Jamaican 4x100m relay quartet, making him an undisputed Olympic sprint champion. Alongside Nesta Carter, Michael Frater, and Yohan Blake, Bolt clinched the 4x100m world record.
100m World Record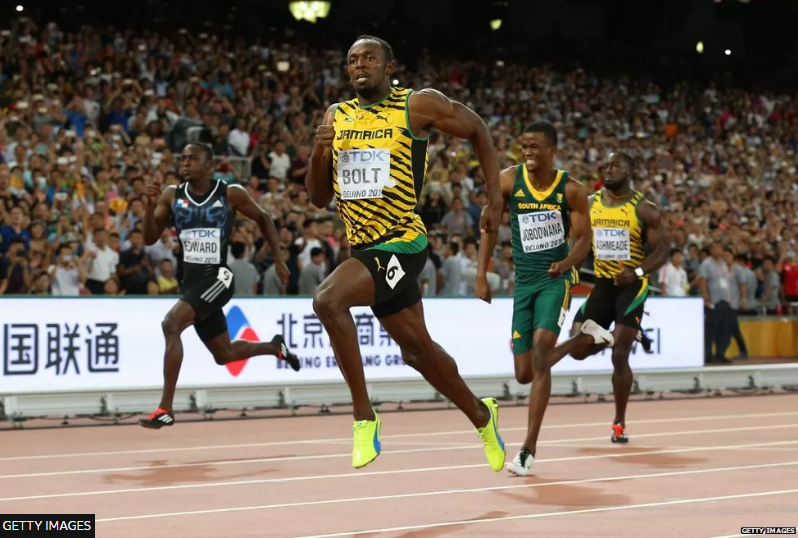 In the heart-pounding realm of 100m sprints, Bolt's reign is legendary. At the 2009 IAAF World Championships, he set a jaw-dropping world record of 9.58 seconds. This showcased his maximum speed and earning him the moniker "lightning bolt."
His average ground speed during this feat was an astonishing 37.58km/h. Additionally, he achieved a top speed of 44.72km/h in the 60-80m stretch, an astounding performance fitting for the world's fastest man. It's no surprise that Usain Bolt won the gold medal.
Impressively, he had already clinched the title once before, back in 2008 at the Reebok Grand Prix in New York. There he clocked a swift 9.72 seconds, surpassing fellow Jamaican sprinter Asafa Powell's previous world record of 9.74 seconds.
At the Beijing Olympics in August 2008, Bolt continued to dazzle by winning gold with a time of 9.69 seconds, bettering his own world record. During the 2009 World Championships, Usain Bolt further solidified his supremacy by extending his own world record.
By the time he retired in 2017, Usain Bolt's 9.69 seconds at the 2008 Olympics became his third-best time in the 100m.
Tyson Gay in 2009 and Yohan Blake in 2012 equaled Bolt's 9.69 seconds from Beijing. However, his 9.58 seconds and 9.63 seconds at the London 2012 Olympics, still stands as the Olympic record to this day.
200m World Record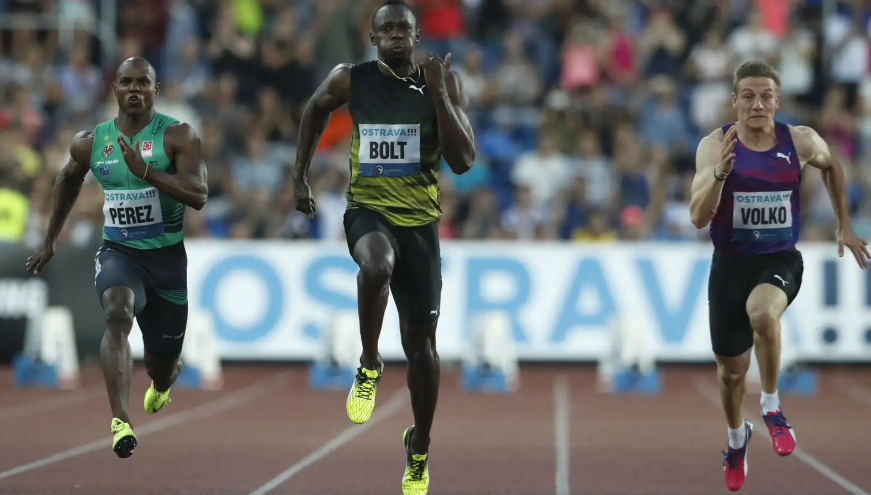 Bolt's prowess extended to the 200m, an event he dominated. At the 2009 World Championships in Berlin, he set the world record with an incredible time of 19.19 seconds. This led to the surpassing of his previous world record of 19.30 seconds from the 2008 Beijing Olympics.
Capturing this record was no small feat. He had to surpass the legendary Michael Johnson's long-standing record of 19.32 seconds set at the Atlanta 1996 Olympics. Usain Bolt accomplished this by shaving 0.02 seconds off Johnson's time and securing both the new world and Olympic records.
In fact, Bolt's 19.19 seconds and 19.30 seconds both feature in the top three best 200m timings of all time. It countryman Blake's 19.26 seconds at the 2011 Diamond League meet in Brussels interrupting a 1-2 finish for Bolt.
4x100m Record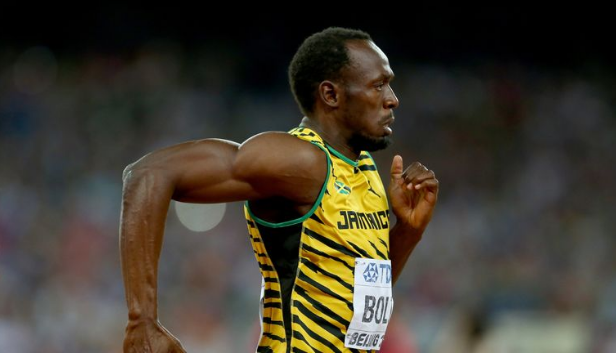 Furthermore, Bolt's 4x100m relay success played a pivotal role in Jamaica's sprinting domination. During the London 2012 Olympics, the Jamaican team, featuring Usain Bolt, Yohan Blake, Nesta Carter, and Michael Frater, established the current world and Olympic record for the 4x100m relay with a remarkable time of 36.84 seconds.
This time outpaced the 37.04 seconds the same team registered at the 2011 World Championships, securing the top two timings in the history of the 4x100m relay.
In addition to these remarkable accomplishments, Usain Bolt also boasts the fastest recorded time in a 150m straight dash. He crossed the finish line in just 14.35 seconds during the 2009 BUPA Great City Games in Manchester, England.
Usain Bolt's world records are an enduring testament to his unparalleled speed, extraordinary sprinting legacy, and his rightful place in the world of world championships and sprint world records.
Olympic and World Championship Records of Usain Bolt
Usain Bolt's unassailable domination in the world of track and field is epitomized by his staggering Olympic and World Championship records. For any athlete, these events are the ultimate dream, and Bolt's legacy is unparalleled.
The Olympic Games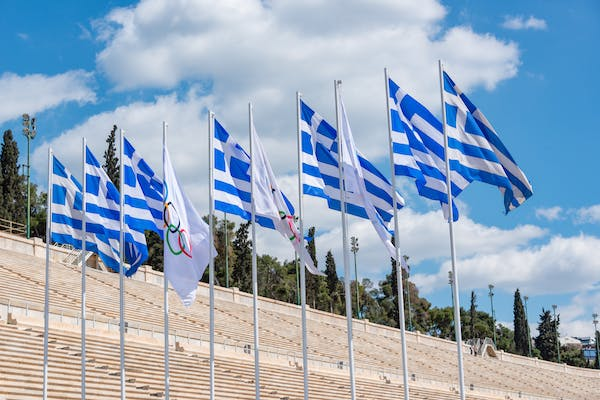 Bolt's triumphant journey at the Olympics is nothing short of remarkable. Following a somewhat disappointing appearance at the Athens 2004 Olympics, he surged to unprecedented heights. Bolt clinched gold medals in both the 100m and 200m in three consecutive Olympics: Beijing 2008, London 2012, and Rio 2016. This remarkable feat has never been matched in sprinting history. Even the legendary Carl Lewis, with his back-to-back 100m golds in 1984 and 1988, couldn't emulate Bolt's triple gold achievement.
Moreover, Usain Bolt didn't just win; he shattered records. He etched his name in history by setting world records in the 100m and 200m at Beijing 2008, an electrifying world record run that showcased Usain Bolt's top speed. It's worth noting that Usain Bolt achieved these records while following a speed curve that saw him reach maximum speed.
The speed of the lightning bolt on the track was a spectacle to behold. In the 100m world record run, he reached a maximum speed that left the world awestruck. His average speed, calculated at miles per hour, was nothing short of astonishing. Usain Bolt broke not only the previous record but also his own record. This redefined the limits of what was believed possible in the world of track and field events.
In addition to his individual accomplishments, Usain Bolt contributed to Jamaica's 4x100m relay victories in all three of these Olympics, solidifying his position as a sprinting icon. Regrettably, the Beijing 2008 medal was revoked in 2017 due to a teammate's failed drug test.
World Championships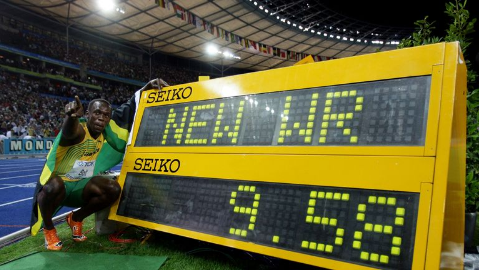 When it comes to the World Championships, Bolt's reign is equally awe-inspiring. From 2009 to 2015, he achieved a remarkable clean sweep, winning gold in the 100m, 200m, and 4x100m events in all editions. However, for the 100m in the 2011 South Korea championship, where he was disqualified due to a false start.
His consistent dominance showcased not only his own record-breaking abilities but also his capacity to perform in top speed conditions.
With 11 gold medals, Usain Bolt stands as the most decorated male athlete in the history of World Championships. Only American female track and field sensation Allyson Felix boasts more gold medals in the competition, with 13.
Usain Bolt's world records, achieved in world records simultaneously, remain a testament to his unparalleled speed and extraordinary sprinting legacy. His name is etched in the track and field history, casting a long shadow over the world's running tracks for years to come.
Usain Bolt's Top Speed Records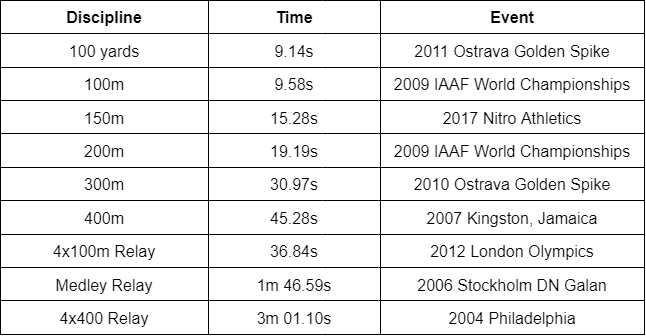 The Commonwealth Games With Usain Bolt
Usain Bolt, renowned for his lightning-fast speed on the track, achieved notable success at the Commonwealth Games. This exhibited his remarkable talent in a diverse sporting landscape.
At the 2006 Melbourne Commonwealth Games, Usain Bolt made his mark by securing two silver medals in the 200m and 4x100m relay events. While he didn't clinch the gold, his performance demonstrated his potential as a sprinting powerhouse. Notably, Jamaica set its own record with Usain Bolt's powerful runs at these games.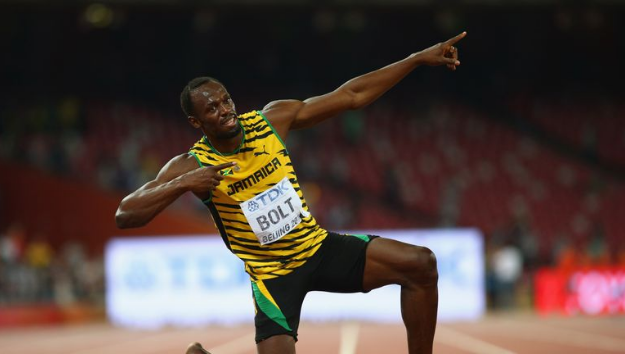 In 2014, Bolt returned to the Commonwealth Games in Glasgow. This time, he decided to skip the individual events but still contributed to Jamaica's 4x100m relay team.
The Jamaican quartet, anchored by Bolt, surged to victory, earning the gold medal. Jamaica won the 4x100m relay, and Usain Bolt ran a pivotal leg, showcasing his top speed.
Usain Bolt's participation in the Commonwealth Games may have been sporadic, but his presence and impact were undeniable. His achievements in the 4x100m relay event added another layer to his illustrious sprinting career. This amplified his versatility as an athlete on the international stage.
Bolt's ability to set his own records and clinch victories further solidified his legendary status.
Usain Bolt's Fitness Regimen
Usain Bolt's journey to becoming the fastest man alive is underpinned by his rigorous fitness regimen. Within these training routines lie the secrets to his remarkable success. This article delves into the specific exercises and methods that have propelled Usain Bolt to the pinnacle of sprinting.
Workout Routine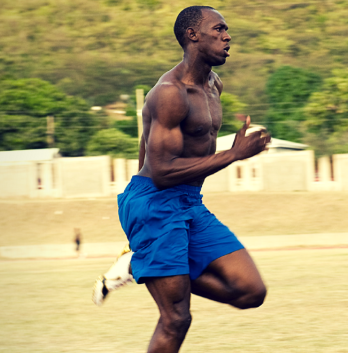 Bolt's workout routine is a relentless focus on building strength and power in his core and lower body. This involves a series of exercises such as squats, deadlifts, and lunges, meticulously designed to fortify his muscles and generate explosive energy. Plyometric exercises, including box jumps and bounding, further enhance his capacity for explosive speed bursts.
In addition to strength training, a considerable portion of Bolt's training program is dedicated to refining his sprinting technique and honing his speed. Sprinting drills, speed endurance training, and hill sprints all play crucial roles in amplifying Usain Bolt's already awe-inspiring velocity. Below is a detailed breakdown of his excercises.
Gym Workouts
Leg Raises (sets: 3, rest: 30secs)
Side Sweeps (3 sets with 30secs rest)
Reverse Crunches (sets: 3, rest: 30secs)
Side Plank Clams (3 sets with 30secs rest)
Bunny Hops (sets: 5, reps: 20)
Box Jumps (sets: 4, reps: 8)
Bounding (sets: 3, reps: 10)
Cable Knee Drives (sets: 3, reps: 10)
Hanging Leg Raises (sets: 3, reps: 10)
Workout 1
Box Jump with Medicine Ball Slam (sets: 4, reps: 5)
Good Morning (sets: 4, reps: 8)
Barbell Lunge (sets: 3, reps: 10)
Sled Push (sets: 3, reps: 20)
Barbell Landmine Exercises (sets: 3, reps: 20)
Workout 2
Power Clean (sets: 5, reps: 3)
Explosive Barbell Step-Ups (sets: 4, reps: 6-8)
Romanian Deadlift (sets: 4, reps: 10)
Sled Drag (sets: 3, reps: 20)
Barbell Ab Rollout (sets: 3, reps: 10)
Usain Bolt Speed Training
Jamaican sprinter Usain Bolt divides his speed training routine into four phases, where each phase is packed with the following drilss:
Starting Blocks: 10×2 point start for around 10-20m, 6×3 point start for around 10-20m, 4×2 block start for around 10-30m
Acceleration: 10x20m with a weight vest, 5x15m 2-point start using weight sleds.
Top End Speed: 5x30m acceleration, 75% speed for 15-20m, sprint for around 10-15m.
Deceleration: 2x100m, 95% of 200m pace
How Fast Can Usain Bolt Run?
Usain Bolt's speed is a marvel in the world of athletics. Speed, in the realm of track and field, is the rate at which an athlete moves through time. It's calculated using the formula speed = distance (d) divided by time (t).
During his world-record run, Usain Bolt blazed across the track at a remarkable 10.44 meters per second. For those familiar with cars and speed limits, it translates to a mind-boggling 37.58 kilometers per hour or 23.35 miles per hour.
That's faster than the estimated average traffic speeds in major U.S. cities like Boston, New York City, and San Francisco. What's even more astounding is that Usain Bolt had to accelerate from a standing start, which means his top speed was even greater.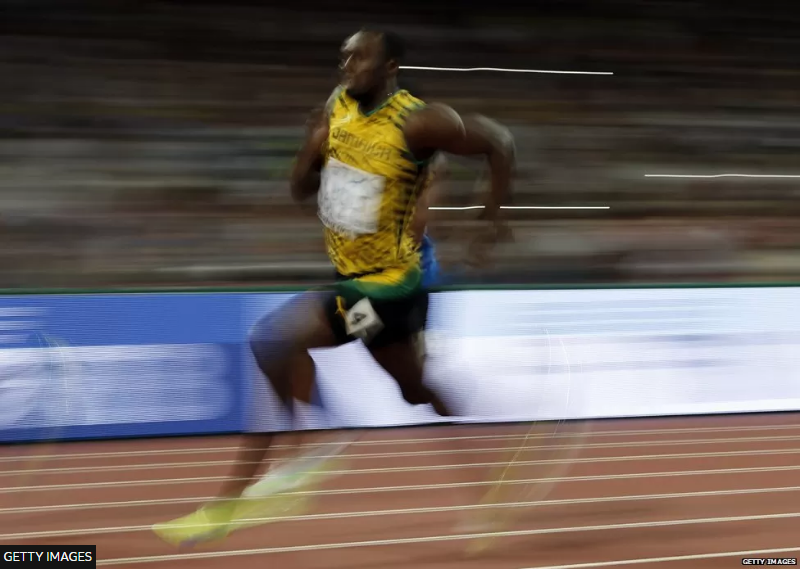 In 2011, Belgian scientists conducted a detailed analysis of Bolt's performance during a 100-meter race held in September of that year. Their findings were nothing short of incredible. At the 67.13-meter mark, Bolt reached a breathtaking top speed of 43.99 kilometers per hour (27.33 miles per hour).
He completed the race in 9.76 seconds, a time that might seem challenging given his unique body type. Typically, the fastest sprinters, who achieve rapid acceleration, have a compact physique with an abundance of fast-twitch muscle fibers.
However, Usain Bolt stands head and shoulders above his competitors, both in terms of height and lean body structure. From a biomechanical perspective, he shouldn't be the fastest person off the starting blocks or the first across the finish line. Yet, he defies the odds and is undeniably the fastest man in the world.
Usain Bolt's extraordinary speed remains a testament to his exceptional talent and the remarkable ability to shatter the limits of human potential on the track. Bolt claimed his title as the fastest person, and he did it by running faster than anyone believed possible.
Usain Bolt vs Cheetah: Who Would Win?
When top speed Usain Bolt and one of the fastest animal in the animal kingdom, like the cheetah, are pitted together, it raises questions about who would seize the gold medal. In the battle of Usain Bolt vs. cheetah, it might initially appear as if there's no contest.
Cheetahs are considered as the fastest animal for a reason. They are both renowned for their ability to reach speeds of 70 miles per hour. While Usain Bolt's top recorded speed hovers around 27 miles per hour during his Olympic career. On the surface, it doesn't seem like a competition worth discussing.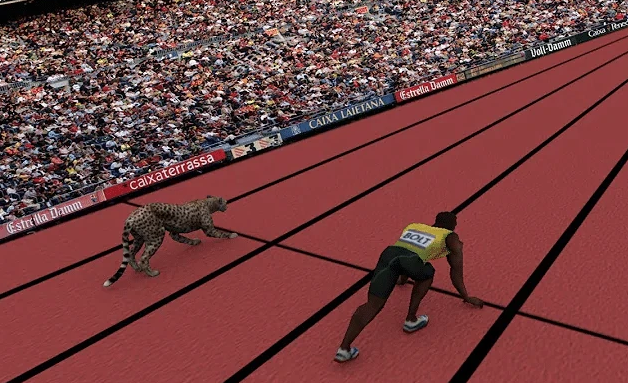 However, the devil is in the details. Cheetahs achieve their extraordinary top speed in remarkably short bursts, usually lasting less than 30 seconds at a time. Usain Bolt, too, is celebrated for his remarkable sprinting ability over very short distances. While he has shattered world records, these distances pale in comparison to even the briefest sprint of a cheetah.
In a head-to-head comparison of pure speed, the cheetah undoubtedly claims the crown. But let's not forget the awe-inspiring accomplishment of Bolt's speed, especially when compared to the average human. Completing the 100m dash in less than ten seconds is a rare achievement, accomplished by very few. Nevertheless, in the realm of sheer speed, the cheetah outpaces Usain Bolt without question.
Carl Lewis vs Usain Bolt: The Better Athlete?
Olympic Success
Carl Lewis's Olympic journey commenced in grandeur at the 1984 Los Angeles Games. He left an indelible mark with gold medals in a remarkable array of events. These include the 100m, 200m, 4x100m relay, and long jump.
His prowess continued to shine in the 1988 Seoul Games There he secured gold in the 100m and long jump and adding a silver in the 200m. In 1992, the Barcelona Games witnessed another stellar performance, with gold in the 4x100m relay and long jump.
Astonishingly, his reign extended to the 1996 Atlanta Games. There he once again clinched gold in the long jump, marking his final appearance in Olympic Games.

In contrast, Usain Bolt's Olympic journey kicked off in Athens in 2004, marred by an unfortunate leg injury that led to his early elimination. However, in 2008, Bolt's meteoric rise began in Beijing Olympics. There he seized gold medals in the 100m, 200m, and 4x100m relay, etching his name into the annals of history.
The 2012 London Olympics bore witness to Bolt's continued dominance, with gold in the 100m, 200m, and 4x100m relay. What sets Usain Bolt apart is that he's the first sprinter to secure an astounding six gold medals in sprint events. He's also the first to successfully defend both the 100m and 200m titles.
Additionally, under Bolt's leadership, the Jamaican team set a new record. They scorched through the 4x100m relay in an astonishing 36.84 seconds during the 2012 London Olympics.
World Championships
Often dubbed the "world's fastest man," Carl Lewis left an indelible mark in the sporting world. In the inaugural World Championships of 1983 in Helsinki, he set the stage, winning gold in the 100m, 4x100m relay, and long jump.
In the 1987 Rome Games, he once again ascended the podium, securing gold in the 100m, the 4x100m relay, and the long jump. His performance in the 1991 Tokyo World Championships was no less impressive. There he earned gold in the 100m and the 4x100m relay, along with a silver in the long jump.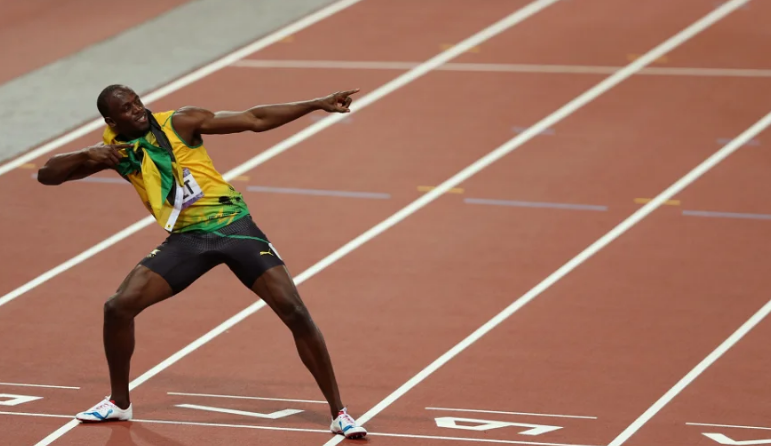 A different shade of glory emerged in 1993 in Stuttgart when Lewis clinched bronze in the 200m, showcasing his versatility across sprint events.
In the footsteps of the legendary Lewis, Usain Bolt started his World Championships journey in 2007 in Osaka. Thre he bagged silver in both the 200m and the 4x100m relay.
Bolt's unparalleled ascent began in 2009, at the Berlin World Championships. Not only did he secure gold medals in the 100m, 200m, and the 4x100m relay, but also etched his name in history as the "world's fastest man." His reaction time and maximum speed were unmatched, setting new standards in sprinting.
The year 2011 brought more gold to Bolt's collection in the 200m and the 4x100m relay, though a disqualification marred the 100m event. In 2013, in Moscow, Usain Bolt once again demonstrated his dominance. He clinched gold in the 100m, 200m, and the 4x100m relay, solidifying his status as one of the greatest sprinters the world has ever seen.
Accolades
Carl Lewis solidified his status as a remarkable athlete by clinching the James E. Sullivan Award for top amateur athlete in the US in 1981. He was named Athlete of the Year by Track and Field News and, notably, he was also named "Olympian of the Century" by Sports Illustrated.
The International Olympic Committee recognized him as the "Sportsman of the Century," further underscoring the profound impact of his remarkable career.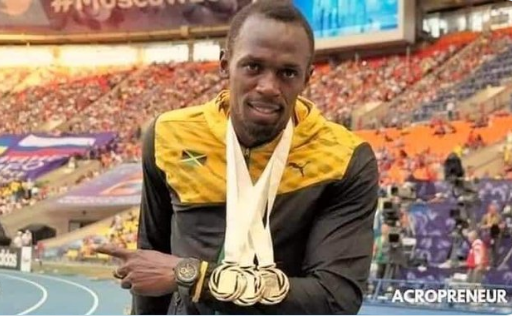 Usain Bolt stands as a living legend and is widely celebrated as the fastest man ever to grace the track. His impressive collection of awards and recognitions attests to his unparalleled speed and skill.
Bolt earned the title of IAAF World Athlete of the Year not once but four times, in 2008, 2009, 2011, and 2012. His dominance in the world of track and field was further underscored as he clinched the titles of Track & Field Athlete of the Year in 2008 and 2009.
Moreover, he secured the prestigious Laureus Sportsman of the Year award in 2009, 2010, and 2013. This enables him to cement his legacy as an athlete of extraordinary caliber. Bolt's achievements reverberated globally, earning him the BBC Overseas Sports Personality of the Year title in 2008, 2009, and 2012.
World Record
Carl Lewis etched his name into history by setting world records in the 100m and the 4x100m relay. He still holds the world record for the indoor long jump, a testament to his unparalleled prowess in both speed and agility. Additionally, Lewis's dominance extends to the 4x200m relay, where he solidified his place among the greatest athletes in the sport's history.
Usain Bolt, affectionately known as the "Lightning Bolt," emerged as a sprinting phenomenon, rewriting the record books in his own right. The Jamaican sprinter currently holds the coveted world records in both the 100m and the 200m, marking a new era of speed in the world of athletics.
His extraordinary accomplishments further include the previous world records in these events, a testament to his unrivaled sprinting abilities. In the realm of relay races, Usain Bolt set the world record run for the 4x100m relay alongside his formidable teammates.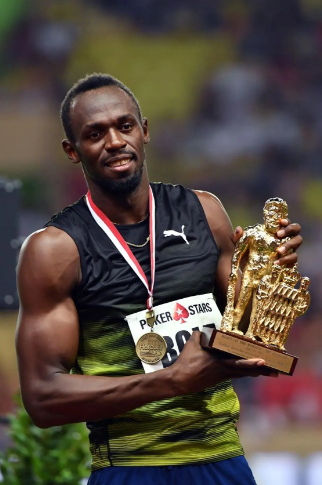 His remarkable journey through the world of sprinting extends to the realm of youth and junior records, where he holds the world youth best and the world junior record in the 200m.
The debate between these two sprinting legends rages on, with fans and experts alike deliberating over who deserves the title of the superior athlete.
Carl Lewis's enduring records and multifaceted talents have solidified his place in history, while Usain Bolt's incredible speed and dominance in both individual and team events have propelled him to sprinting stardom.
Both athletes continue to inspire generations with their remarkable feats, leaving an indelible mark on the rich tapestry of track and field history. The debate endures, but the legacy of these two remarkable athletes remains unshakable.
From the Olympics to World Championships, Usain Bolt's gold medals, new world records, and remarkable sprints have cemented his status as a true legend in the world of track and field.
When did Usain Bolt Retire?
The world of sports and athletics suffered a significant loss when Usain Bolt, the fastest man in the world, made the decision to retire. It was at the 2017 World Championships in London where the trajectory of Bolt's illustrious career took an unexpected turn.
During this fateful competition, Bolt faced a formidable adversary, one that ultimately proved to be insurmountable – injury. Bolt, the anchor runner for Jamaica in the final race, encountered a devastating setback.
With a mere 50 meters left to the finish line, he was forced to pull up due to a severe hamstring injury, a moment etched in the memories of sports enthusiasts worldwide.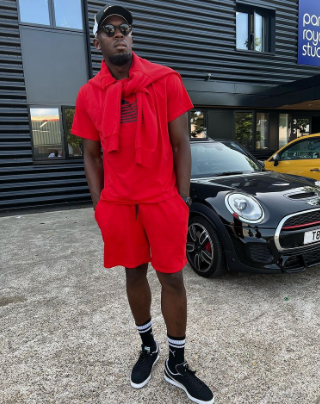 The combination of age and injury weighed heavily on the sprinting legend. It was these factors that played a pivotal role in his decision to draw the curtains on his glittering career.
Bolt's impressive collection of accolades includes a staggering eight Olympic gold medals, along with 11 World Championship gold medals, two silvers, and one bronze.
This unforeseen turn of events marked the end of an era, leaving fans and athletes alike to reflect on the remarkable journey of the world's fastest man. Usain Bolt's legacy endures, as does the memory of his electrifying sprints, records, and the indelible mark he left on the world stage of athletics.
His top speed, the speed curve, the Olympic record, and the unforgettable world record runs are all part of the captivating story of this legendary sprinter.
What did Usain Bolt do After Retiring?
Usain Bolt retired from professional athletics in 2017, and has since then embarked on a diverse and dynamic journey, exploring various avenues beyond the track. He has channeled his energy and efforts into a range of pursuits that reflect his multifaceted interests and passions.
One of his endeavors after Usain Bolt retired has been an active engagement in attending events and participating in presentations related to advertising campaigns.
This strategic involvement has not only allowed him to maintain a strong brand image but has also solidified his presence in the world of marketing and promotions. As a former Olympic champion, Usain Bolt stated his commitment to making a significant impact beyond the track.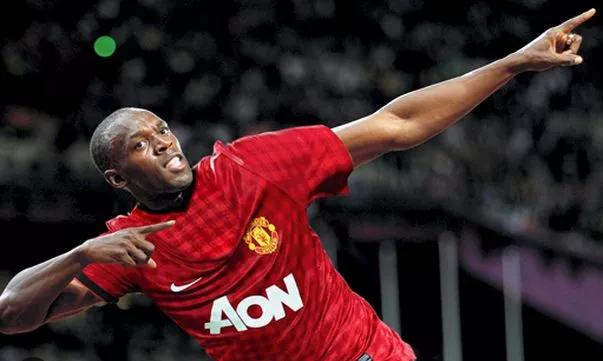 Football
Following his exit from track and field, Bolt decided to explore his interest in becoming a professional footballer. He made headlines by attempting to join the Central Coast Mariners, a professional football team in Australia.
During his brief soccer career, Bolt, who had previously dominated as an Olympic champion, made quite an impact, scoring two goals in just three games. His impressive performance ignited conversations with legendary figures such as Sir Alex Ferguson of Manchester United, hinting at the potential for a remarkable transition to the world of professional football.
Although the soccer journey didn't lead to a long-term commitment, it was a memorable chapter in Bolt's post-athletic life.
Artistic Exploration
In recent years, Usain Bolt has delved into the realm of music, showcasing his artistic talents and aspirations. He has ventured into music production, creating several songs, and expressed his desire to elevate Jamaica's dancehall genre to an international audience.
This foray into the music industry has added yet another dimension to his already diverse portfolio of interests.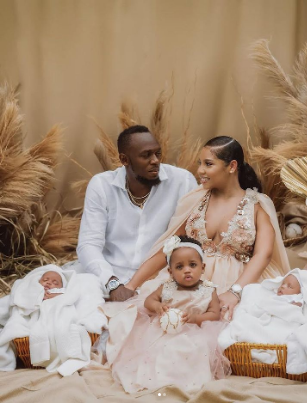 Notably, Usain also embraced fatherhood as he and his girlfriend, Kasi Bennett, welcomed their first child in May 2020, a daughter named Olympia Lightning. Their family expanded further with the birth of twin boys, St. Leo and Thunder, in a heartwarming development earlier this summer.
The Secret Behind Usain Bolt's Top Speed
Given the unbelievable records that Bolt has established, it's only natural to wonder about the secret sauce behind his top speed. Here's a breakdown of the techniques that enable Usain Bolt to achieve one world record after another.
Running Technique
For a sprinter, the race begins not with the starting gun but with the reaction time from the sound of the starter's gun to the critical moment of pressure against the starting block.
While reaction time is often considered a crucial factor in sprinting, studies, such as the one by Mero et al. (1992), reveal that there's no direct correlation between reaction time and overall performance.
Usain Bolt, despite not being the quickest off the block, compensates for his initial reaction speed later in the race with sheer power and impeccable technique.
Running economy plays a pivotal role in a sprinter's ability to maintain peak performance. Unlike distance runners who focus on conserving energy for long distances, sprinters prioritize power and explosiveness to achieve their maximum speed.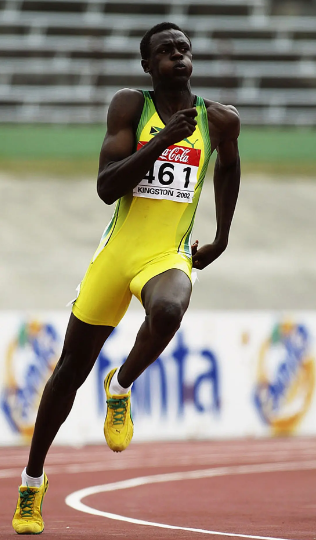 Sprinters like Bolt sacrifice running economy to harness the explosive strength needed to reach their top speed.
In longer races, pacing strategies are employed to maintain an efficient use of energy over the entire distance. However, in the case of 100m and 200m sprints, there's no room for pacing.
Sprinters must give their all from start to finish, aiming to achieve an optimal balance between power and endurance to cross the line with the quickest time possible.
An intriguing aspect of Bolt's technique is his foot-strike. Sprinters tend to avoid landing on their heels. In shorter sprints like the 100m, forefoot striking or occasionally mid-foot striking is more common, as these foot positions provide the most power, making each stride a propellant towards the finish line.
Stride, Rate, and Length
Detailed gait analysis of Bolt has revealed that he takes fewer steps (41 vs. 45) than his competitors and maintains a slower step rate (4.28 vs. 4.54). This suggests that he generates remarkable power with each stride, despite slower limb movement on average.
His above-average height of 1.96 meters and a weight of 96 kg give him a significant stride advantage over his smaller rivals, making him stand out on the track.
Considering joint angles, another crucial biomechanical factor comes into play. Sprinters display greater plantar flexion and less dorsiflexion at the ankle, combined with more hip flexion and knee flexion.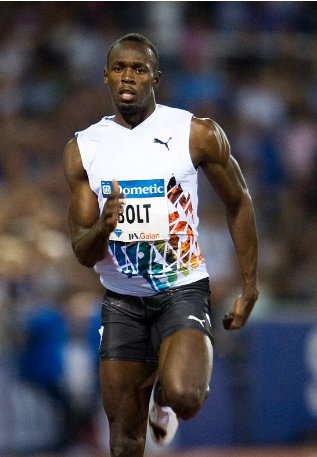 As speed increases, runners experience a shift in the center of mass that moves forward and downward due to increased hip and knee flexion. This shift optimizes horizontal forward propulsion, a principle well-established in the works of Novacheck (1998) and Bushnell & Hunter (2007).
It's evident that sprinters, including Bolt, leverage these greater hip flexion angles to extend their step lengths.
In the end, what makes Usain Bolt an unparalleled sprinter isn't solely his impeccable form, as his coaches have noted that he possesses certain technique flaws.
However, he has harnessed his physiological and biomechanical strengths, optimizing his movement to accommodate his imposing height and weight.
Conclusion
Usain Bolt's world records and techniques have left an indelible mark on the world of athletics, a legacy that continues to inspire athletes of today and those yet to come.
Bolt's remarkable journey from a young Jamaican sprinter to the fastest man on the planet is a testament to his extraordinary talent, dedication, and the perfect amalgamation of biomechanics that propelled him to world record-breaking performances.
Bolt's reign as the world's fastest man is characterized by not only his astounding world records but also his unique techniques. His stride length and stride rate are exemplary, demonstrating the delicate balance required to attain maximum speed.
These techniques, combined with his towering height and powerful physique, allowed him to leave his competition in the dust. The science of his success reveals the optimal relationship between stride length and stride rate, where he excels.
One of the remarkable aspects of Bolt's career is how he overcame what some might consider initial weaknesses. He wasn't the quickest off the starting blocks, but he compensated for this with astonishing top-end speed.
His slower reaction times were offset by his incredible acceleration and ability to maintain top speed for longer durations, making him a force to be reckoned with in sprinting.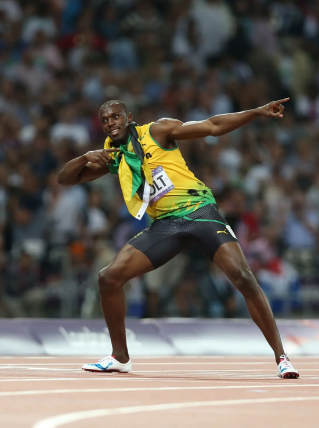 Usain Bolt's feats on the world stage, including his world records in the 100m and 200m, continue to be a source of inspiration for athletes of all ages and levels. His charisma, both on and off the track, captivated fans worldwide.
His confidence and showmanship have endeared him to millions, leaving an indelible impression on the sport.
These records represent not just remarkable athletic achievements but also the embodiment of human potential. Bolt's influence extends beyond athletics, making him a global icon for determination, sportsmanship, and the pursuit of excellence.
He motivates both seasoned athletes and aspiring talents to chase their dreams relentlessly. This reminds us that greatness is attainable with hard work and unwavering belief.
As the years go by, Usain Bolt's world records will undoubtedly stand the test of time. They serve as a benchmark, challenging athletes to push their limits and strive for the seemingly impossible. Bolt's records will continue to inspire generations of sprinters, proving that the pursuit of excellence knows no bounds.
His performances are more than just records; they are a testament to the heights that can be achieved through unwavering dedication and the perfect blend of biomechanics. Bolt's legacy extends far beyond the sport, as he remains a beacon of inspiration for athletes today and those of the future.
Usain Bolt's legacy will continue to fuel the aspirations of sprinters. It shows that with the right combination of talent, hard work, and determination, the sky is not the limit; it's just the beginning.