How To Walk Properly
Walking, a seemingly simple activity, is an innate human ability that we often take for granted. However, mastering the art of walking with proper form and technique can significantly improve our overall health and well-being. In this article, we will delve into the specifics of the stance and swing phases of proper walking form, uncovering the key elements of each phase and highlighting common injuries that can arise due to improper walking form. By understanding these aspects of good form, you can optimize your walking technique and minimize the risk of injuries without needing a master's degree.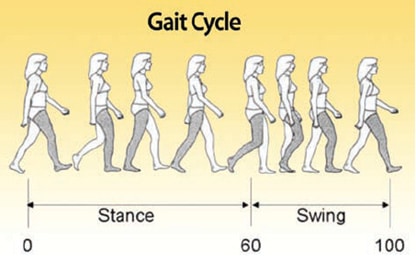 The Stance Phase:
The period when your foot makes contact with the ground. It consists of three key stages: heel strike, midstance, and toe-off.
Heel Strike: During heel strike, your heel makes initial contact with the ground.
To execute a proper initial foot contact:
Keep your upper body upright with a slight forward lean for proper walking posture and balance.
Land softly, allowing the foot to roll smoothly from the heel to the midfoot and prevent unnecessary stress on the lower leg joints.
Avoid excessive slapping or stomping of the foot, as it may lead to injuries like plantar fasciitis or stress fractures. Also, make sure one foot does not hit the ground harder than the other or has a disproportionate amount of weight on it.
Midstance:
Occurs when your entire foot is in contact with the ground.
Focus on the following aspects during midstance:
In order to walk properly ensure your weight is distributed evenly across your feet.
Keep your knees in line with your toes, preventing excessive inward or outward rotation. Engage your core muscles to maintain a stable and good posture and prevent excessive lateral movement. So your bodyweight is shifting from heel to toe.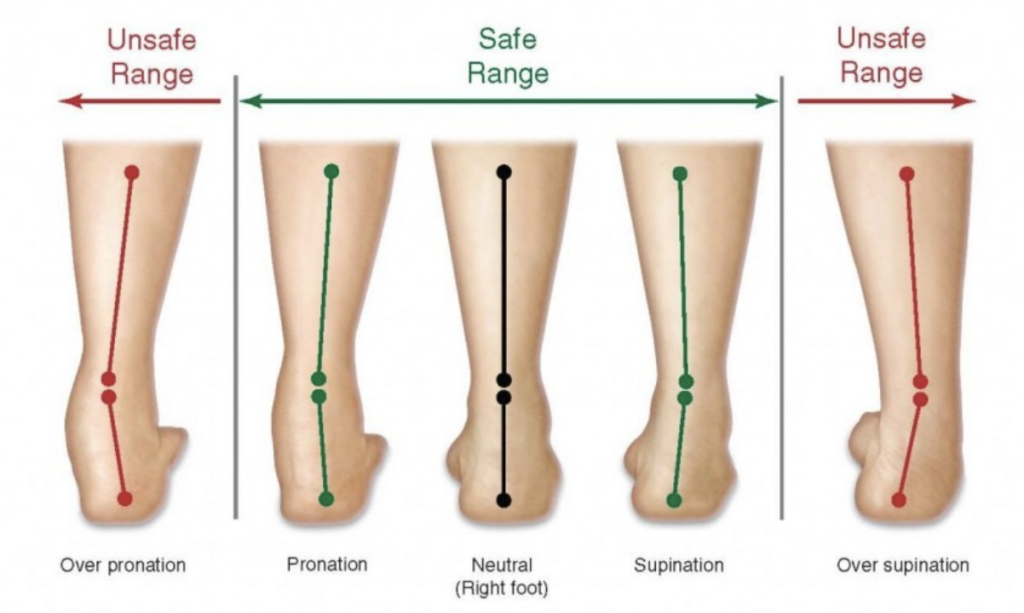 Avoid overpronation (excessive inward rolling) or supination (excessive outward rolling) of the foot, which can contribute to conditions like shin splints or ankle sprains. The correct walking technique is critical to prevent overuse injuries.
Make sure the upper body is not too far behind or infront of the foot and hip during this phase.
In order to walk properly and maintain good form you must be aware of your hips and prevent any type of excessive hip shift side to side while walking
Toe-Off Phase:
Marks the transition from the stance to the swing phase.
To optimize your toe-off:
Push off with your toes, generating power from your lower leg joints and muscles.
Maintain a relaxed ankle and allow your foot to flex naturally during the push-off.
Aim for a smooth and controlled transfer of weight from the stance leg to the swinging leg to maintain a consistent walking speed.
Proper walking technique should allow for plenty of extension in the foot and ankle as well as through the hip. A common way to pinpoint back or hip stiffness is from someone having a lack of hip extension or back extension while attempting to maintain proper walking form.

The Swing Phase:
Occurs when your back foot is off the ground and opposite arm is moving forward. It encompasses three stages: initial swing, mid-swing, and terminal swing.
Initial Swing:
The initial swing initiates the forward movement of your leg. Consider the following tips: Lift your foot off the ground using your hip flexor muscles while keeping your knee slightly flexed. It is important to get all the way up on your big toe here so the heel is pointed straight up into the air. Notice if one foot has less range of motion than the other to prevent injury.
Mid-Swing:
The mid-swing phase involves the continuation of the leg's forward motion. Focus on the following aspects: a. Maintain a relaxed and slightly flexed knee to prevent unnecessary strain on the joints. Get the big toe around and through so the foot is properly prepared for ground contact. The feet play an important role in your gait so it may be good to be barefoot to feel the difference between the left and right side.
Terminal Swing:
The terminal swing phase prepares for the subsequent stance phase. Pay attention to the following techniques: a. Gradually extend your knee and prepare for heel strike. b. Ensure your swinging leg is aligned with your body's forward trajectory for a seamless transition to the stance phase. c. Maintain a controlled and balanced movement to reduce the risk of tripping or falling.
Common Injuries Resulting from Improper Walking Form
Walking with improper form can place undue stress on various parts of abdominal muscles and the entire body, leading to a range of injuries. Understanding these common injuries can help you identify potential issues and better understand how to walk properly without consulting a certified personal trainer.
Plantar Fasciitis:
Improper walking form, such as excessive heel striking or overpronation, can strain the plantar fascia—a thick band of tissue that supports the arch of the foot. This can result in inflammation, pain, and stiffness in the heel or arch. To prevent plantar fasciitis, ensure a smooth and controlled heel-to-toe transition during the stance phase, and consider using supportive footwear.
Shin Splints:
Shin splints refer to pain and inflammation in the lower leg along the shinbone (tibia). Walking with improper form, such as overstriding or excessive impact, can contribute to this condition. Maintaining a neutral foot position, avoiding overpronation, and gradually increasing walking intensity can help prevent shin splints.
Knee Pain:
Improper walking form can place additional stress on the knee joints, leading to conditions like patellofemoral pain syndrome or IT band syndrome. Misalignment of the knee, excessive inward or outward rotation, or lack of proper knee flexion during the swing phase can contribute to knee pain. Focus on maintaining proper alignment, engaging your core muscles, and ensuring a balanced and controlled stride to protect your knees.
Hip Pain:
Walking with improper form can also impact the hips, resulting in issues such as hip bursitis or hip impingement. Inadequate hip stability, excessive swinging or crossing over the midline during the swing phase, and lack of proper hip extension can contribute to hip pain. Strengthening the hip muscles, maintaining a neutral pelvis, and avoiding excessive lateral movements can help prevent hip-related injuries.
Back Pain:
Walking with poor posture or excessive forward lean can lead to back pain and discomfort. Additionally, lack of core engagement and improper weight distribution during the stance phase can contribute to spinal misalignment. Focus on maintaining an upright posture especially in the upper body, engaging your core muscles, and keeping the shoulders back to prevent injury to the back.
Keys To How To Walk Properly
Good Walking Posture:
Maintaining proper posture is essential for efficient and injury-free walking. Follow these guidelines:
Stand tall with your head aligned with your spine, keeping your shoulders relaxed and level to prevent the entire body from a lean forward.
Engage your core muscles to provide stability and support throughout your walk and maintain the correct posture in your spine. The abdominal muscles are primarily used to keep the spine upright. If needed seek help from a certified personal trainer to help improve the core muscles.
Avoid slouching or leaning forward, by keeping chin parallel to the ground. Bad walking posture can strain your back and negatively impact your gait. Leading to bad timing in the back leg or ineffective shift of body weight from heel to toe.
Foot Strike:
Focus on achieving a natural and controlled foot strike during the stance phase:
Aim for a midfoot strike, where your foot lands between the heel and ball of the foot. While keeping the feet straight, the weight shoulder primarily be on the back foot. Then shift into the stance leg as you transition to the right position.
Avoid excessive heel striking or landing solely on the toes, as both can lead to imbalances and potential injuries. There is a big difference in initial foot contact in people who are able to walk properly in comparison to people who are not in the right position when walking.
Cadence and Stride Length:
The cadence refers to the number of steps taken per minute, while stride length is the distance covered by each step. A good walking pattern for cadence and stride length are as follows:
When you start walking aim for a cadence of around 120-140 steps per minute. This would be considered an walking speed, as you better understand how to walk properly, you can increase from there.
Maintain a stride length that feels comfortable and allows for a smooth and efficient gait. Shifting from heel to toe properly in each step will play an important role in your ability to walk properly.
Avoid overstriding, where one foot gets out in front of the body too much in order to prevent injury. If you want to walk faster it is not a good idea to start overstriding instead have more of a back focus while foot is on the ground.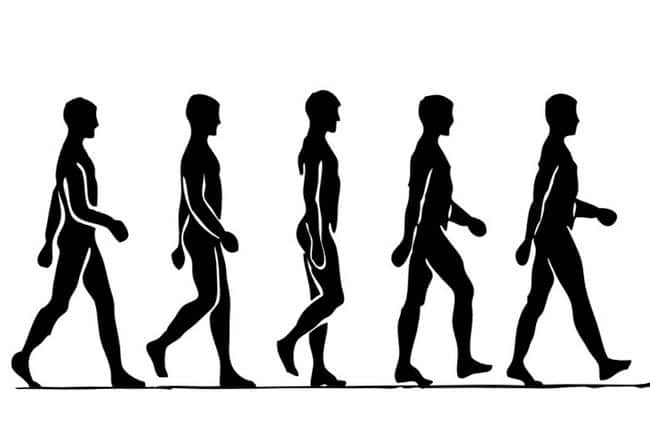 Arm Swing:
Coordinating your arm swing with your leg movements can enhance balance and efficiency and prevent putting more stress on the upper back or spine:
Keep your arms relaxed and down by your side. The arms should be swing naturally while standing tall to prevent back and shoulder strain and avoid unnecessary visits to the physical therapist.
Make sure that both of your shoulders are the same height and keep the chin parallel to properly engage your upper back and back muscles.
Avoid crossing your arms in front of your body or allowing them to swing excessively side-to-side, as it can disrupt your balance and put more stress on your lower body. Proper walking form should look very natural and have a steady walking speed in the entire body.
Hip Movement:
Proper hip movement contributes to a smooth gait and proper activation of the back muscles of the leg and hip to reduce the risk of hip-related injuries:
Allow your hips to move and swing naturally with each step, providing a slight rotation and forward propulsion.
Avoid excessive hip sway or twisting, which can strain the hip joints and lower back.
Also, prevent too much of a lean forward while walking by maintaining consistent activation of the abdominal muscles. A neutral pelvis is a critical position to be able to hold when walk properly and avoid unnecessary stress.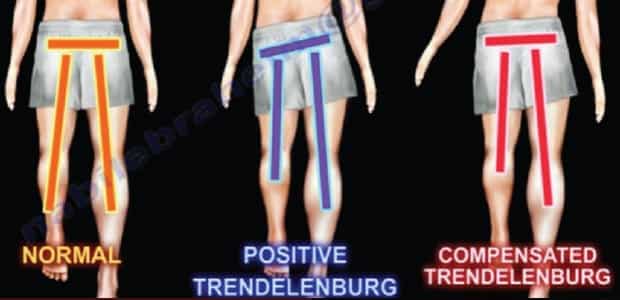 Breathing:
Pay attention to your breathing during walking to ensure a steady flow of oxygen to your muscles: Breathe deeply and rhythmically by inhaling through your nose and exhaling through your mouth. Also, it is important to maintain a relaxed and controlled breathing pattern throughout your walk. Especially for people who work at a desk most of the day, by walking it will make a big difference to boost lung health and breathing patterns especially when done with a proper walking posture.
Benefits Of Understanding How to Walk Properly
Cardiovascular Health: Walking is a low-impact aerobic exercise that gets your heart pumping, improving cardiovascular health. Regular walking can strengthen your heart and improve its efficiency in pumping blood to promote lung health. Help lower blood pressure and reduce the risk of heart disease and stroke. Enhance circulation and oxygen supply to muscles and organs, improving overall cardiovascular fitness especially when getting fresh air during your walking routine.
Weight Management: Walking is an effective way to maintain a healthy weight or support weight loss goals. Here's how walking is a great idea for people looking to improve overall health. Burns calories especially if you start walking faster and maintain proper walking posture. Boosts metabolism by increasing your metabolic rate, promoting fat burning and helps you lose weight. Gives you more energy and will relieve unnecessary stress built up.
Bone and Joint Health: Walking is a weight-bearing exercise that supports bone density and joint health. The benefits include. Strengthening bones and low leg joints, increase bone density, reducing the risk of osteoporosis and fractures. When you walk correctly it promotes the lubrication and nourishment of joints, reducing stiffness and improving flexibility. A good walking pattern will alleviate risks of inflammation and arthritis as well as other inflammatory issues.
Improved Mood and Mental Health: Walking has a positive impact on mental well-being and can improve your mood in several ways. A great walking posture stimulates the release of endorphins, natural "feel-good" hormones that elevate mood and reduce stress. With the correct walking technique you can help alleviate symptoms of anxiety and depression, promoting a sense of well-being. A consistent walking pattern has shown to increase cognitive function by enhancing blood flow to the brain, improving memory, focus, and overall cognitive function.
Increased Energy and Stamina: Another added benefit of walking with good posture regularly can boost your energy levels and overall stamina. Additionally, Walking improves circulation and oxygenation of muscles and tissues, leading to having more energy throughout the day. A daily routine Regular like walking promotes better sleep, leading to increased energy during the day. A simple stroll can improve your stamina, making daily activities feel easier and wreak havoc on your belly button
**Medical disclaimer: results may vary for these benefits depending on age, physical condition, injury history, overall health and much more. It is important to consult your doctor before making any drastic changes to your lifestyle**
Conclusion:
Walking is a fundamental activity that we engage in daily, and by mastering the art of walking technique with good posture and a healthy walking routine, we can enhance our overall health and reduce the risk of injuries. Paying attention to the specifics of the stance and swing phases, along with being aware of common injuries resulting from improper walking form, empowers us to stay on a consistent walking program to prevent injury without having to become a certified personal trainer.
Remember to prioritize maintaining good form, choose great walking shoes, correct posture, and walk properly to enjoy the countless benefits that walking offers. Good walking posture involves maintaining a neutral spine, keeping your shoulders back and down, and aligning your ears, shoulders, hips, and ankles in a straight line. Proper walking also offers for lung health, while safeguarding your body from unnecessary strain and injury.